Scent to Make You Feel Good Range™
Wellbeing Pod Luxe
PERFECT PARTNER
Wellbeing Pod Cleaning Kit
€12,00
Free UK Delivery on Orders over £40 | Next Day Delivery on orders placed before 2pm | See International Shipping page for restrictions
How To Use
LUXE IT UP
Simply fill the 350ml water tank of the Wellbeing Pod Luxe with cold water, pop in 30 drops of your NEOM Essential Oil Blend and use the remote to tailor your wellbeing to your space and moment. Select your diffusion power and duration, dim or strengthen the light and even experience the breathing mode for a guided moment of calm...
FEATURES
Designed to scent double the space in minutes with a 350ml / 11.83 fl oz water tank.
Scent your space for longer, with a full tank the Wellbeing Pod Luxe will mist for up to 12 hours.
Remote controlled with a chic, minimalist display.
The Wellbeing Pod Luxe features a 'Breathing Mode' light which slowly brightens for 7 seconds then dims for 11 seconds for a guided moment of calm.
Also features Alternating Mode: 30 seconds diffusion, 30 seconds pause.
Adjustable diffusion intensity, light strength & operation times from 1-4 hours at a time or on for 12 hours until auto-shut down.
The Pod Luxe will automatically shut off when the tank is empty.
Crafted with our bespoke gravure ceramic cover and rose gold touches.
The Wellbeing Pod Luxe is designed with a Hevea wooden base. Sustainably sourced from Malaysia, Indonesia & Thailand, the wood is harvested from trees already used once at the end of their useful life cycle.
The Wellbeing Pod Luxe dimensions: 140mm wide x 140mm high.
Maximum coverage is 100 square meters.
Mains operated not battery operated.
The Pod Luxe comes with a global adaptor.
Quiet operation. The Wellbeing Pod Luxe is an ultrasonic diffuser working on vibrations and therefore there is a gentle water trickling noise.
We only recommend using NEOM Essential Oil Blends in the Wellbeing Pod Luxe as these contain 100% natural ingredients, are safe to use with the Pod and are within your warranty.
Wellbeing Benefits
It's here. The Wellbeing Pod Luxe. Joining the Wellbeing Pod family, it's here to bring that BIGGER BOOST of wellbeing.
It's larger and more luxurious than EVER and has been designed to scent large, open-plan spaces in minutes – whatever your wellbeing need, the new NEOM Wellbeing Pod Luxe works at the touch of a remote, helping you achieve better sleep, less stress, a mood boost or more energy through your choice of NEOM 100% natural oil blends.
Each and every one of our essential oils has been expertly blended with the purest ingredients and infused with 100% natural fragrances to help boost your wellbeing in more ways than one. Whatever your concern, we're here to help with our collection of 16 different oil blends – all of which harness the power of natural aromatherapy.
For that extra special moment of wellbeing, drop in one of Precious Essential Oils into your Wellbeing Pod Luxe. Discover the collection here.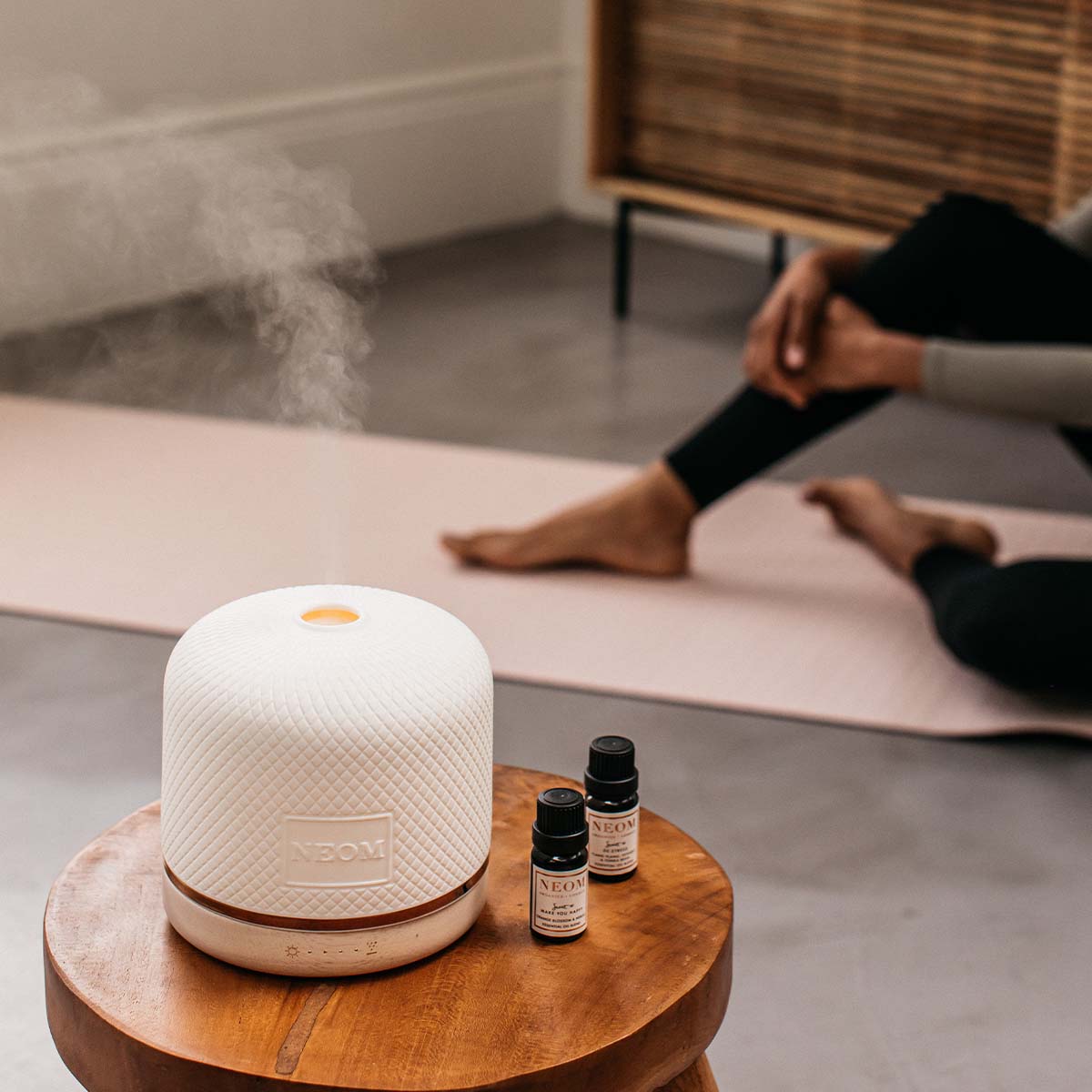 Proud To Be A B Corp
Our mission is to supercharge wellbeing - not only of our communities but of our planet too. We want to leave both in a better place, so becoming a certified B Corp business means everything to us.
Find out more about our journey here.